Singhare Ki Poori
On 9 days of Navratri fast, if you want to cook Singhare ki Poooris then it's not at all a tough task. All that you need is to follow this easy recipe of Singhare ki Poori to cook yummy puffed up Singhare ki Pooris for yourself and your family. During Navratri fasting people prefer Kittu ki Pooris a lot as these are light, tasty and easy to digest. So just think no more. Just go through the recipe of Singhare ki Poori and try this on this Navratri.
Cuisine: Indian
Category: Main course
Preparation time: 30 minutes
Cooking time: 20 minutes
Servings: 2 (Makes 10 puris)
INGREDIENTS:
Singhare ka Atta (water chestnut flour) – ¾ cup
Few Cilantro or coriander leaves - finely chopped
Rock salt or Sendha Namak – as per taste
Potato – ½ cup tightly packed, boiled as well as peeled and mashed
Oil – for deep frying the pooris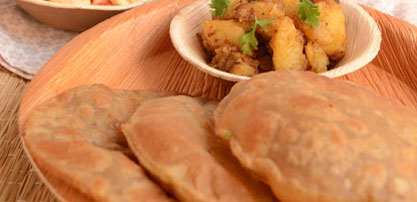 Step by Step Recipe of Singhare ke atte ki Poori):
At first, boil the potatoes in a pressure cooker and then let it cool down to touch.
Now peel the potatoes and mash it till it turns smooth. Alternately you can grate the potatoes but in this case you need to make sure that no chunks of potato is left otherwise pooris will not puff as ball.
Then take singhare ka atta, boiled potato, cilantro and rock salt in a bowl.
Mix all this with your hands, use your fingers and thumb to mix it well and smooth. Start kneading it into dough without adding any water in it.
Make it come together. If required then add some mashed potatoes into it (about a tablespoon or two) to make a smooth dough. Remember not to add any water.
Now evenly divide the dough into 10 equal portions.
Make smooth balls out of it and flatten it lightly between your palm.
This is actually gluten free dough, so it will stick to the board while rolling. Thus using thick plastic or ziplock bag can make the rolling part easier. If need then you can also apply some oil on ziplock bag to avoid sticking. It is advised to work with one ball at a time.
Then pat it well with your fingers and seal the edges. If it starts to breaks then keep patting it to turn it into round poori of about 3 inches diameter.
Now it's time to roll all the pooris and then keep them one after another on the plate.

It's time now to heat the oil in a pan on medium-high flame to for frying the pooris.
Do remember that the oil should be hot. Now carefully slide one poori into hot oil and press very lightly with back of slotted spoon so that it starts puffing into little balls.
The time it starts turning brown from one side, carefully flip it and fry other side of the poori as well.
Now remove it from the pan to a paper towel lined plate so that extra oil gets soaked into the paper.
In the same way fry all the pooris.
Lastly it's time to serve this Singhare ke atte ki puri hot or warm to your loved ones.
Some serving suggestion: If you are making Pooris during the fasting days, then this singhare ki puri can be served with any farali side dish such as aloo ki sabzi, suran sabzi, sukhi bhaji, sweet potato sabzi or Sukhi arbi. You can also have it with singhare ki kadhi or rakgira kadhi or as well.
Notes for Making Excellent Singhare ki Pooris:
It is very important to mash the potatoes very well and very smooth for the poories as any chunk of potato in the dough will prevent the poori to puff up.
Do not add water while making dough. Rather keep some mashed potato extra handy. If dough becomes dry then adding a tablespoon of mashed potato and kneading it into smooth dough will help. On the other hand adding water into dough will turn it sticky.
The dough made with use of water will be crumbly and puri will fall apart. Also this water chestnut flour is gluten free flour, thus potatoes works as a binding agent in this case.
Remember to roll or pat the puri to even thickness. If it is uneven then poories will not puff up during frying.
Don't roll the pooris too thin or too thick. The thickness of the pooris should be medium.
Make use of hot oil to Fry the puris. If oil won't be hot then puris will absorb too much oil because of potatoes in it. Also this will prevent pooris from puffing as ball while frying.