Samvat Pulao
Navratri is an Indian fest when devotees or people who observe ritual fast, are restricted to eat simple food. They are not allowed to eat food that contains onion and garlic. Devotees who observe fast during Navratri can include Samvat rice in their food. Samvat rice or Sama rice are smaller than regular size of rice and this type of rice can be eaten during the fasts. Using this rice you can make Pulao or if you prefer sweet dish then you can made kheer using Samvat rice.
Ingredients required for making Samvat Pulao
250 ml or a cup of Samvat or vrat ke chawal
1 table spoon cumin seeds
Half inch cinnamon stick
2 cardamoms (green)
3-4 cloves
3-4 black pepper (whole)
½ inch ginger and 1 green chili (crushed)
8-10 leaves of Curry
1 table spoon sliced coriander leaves
2 table spoon of peanuts
Cubes of 2 medium sized potatoes
8-10 cashews (whole)
6-8 almonds
2 table spoon oil or ghee
1 table spoon coriander (chopped) for garnish
Rock salt as per taste
Lemon juice as required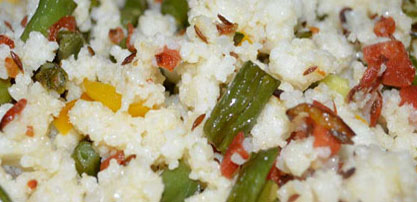 How to make the Samvat Pulao:
Clean the Samvat rice twice or thrice in water such as the way we clean rice.
Soak in sufficient water for the time period of 20-30 minutes.
Dry roast the peanuts in the oven or on a pan in order to make them crunchy.
Grind them in order to transform in thick powder.
Heat up ghee or Oil (As your preference)
Add all the spices (whole) – cardamom, cumin, cloves, cinnamon and black pepper.
Fry them till the oil become odorous and the cumin crackles.
Add the crushed paste of ginger-green chili and fry for half a minute on a lower heat.
Mix the cubed potatoes & leaves of curry, chopped up coriander leaves and fry for 3-4 minutes on a lower heat.
Now include the peanuts powder and mix.
Drain the Samvat rice and add to the fried mixture and mix well
Mix water & salt and put the pressure cook for on the flame 4-5 whistles till the water is soaked and the millet grains are cooked.
While the Pulao is cooking, you can roast the dry fruits such as cashews and almonds. When they are chilled chop them well.
When the sabudana starts losing its opaqueness and turns into translucent they are cooked.
When serving the Samvat Pulao, decorate with the coriander leaves and dry fruits.
While, serving the Pulao shake over some lemon juice in the on it.