Sabudana Khichdi Recipe
Sabudana Khichdi is one of the most delicious and much preferred fast recipes among all. It is easy to make and a healthy dish for the ones on Navratri fast for 9 days. Tapioca sabudana pearls cooked with potatoes and peanuts make it an excellent dish to relish during the suspicious time of Navratri. There are several ways of cooking Sabudana Khichdi. However this recipe of Sabudana Khichdi is much preferred buy all.
Recipe type: Snacks
Cuisine: Indian
Prep time- 8 hours
Cook time- 30 mins
Total time- 8 hours and 30 mins
Serves: 3-4
Ingredients (measuring cup used, 1 cup = 250 ml)
1 cup sabudana or tapioca pearls
½ cup roasted peanuts/moongphali
2 small to medium size potatoes/aloo
2 tbsp oil
¼ cup grated fresh coconut (optional)
tsp grated ginger/adrak (optional)
1 tsp cumin/jeera
1 green chili/hari mirch, chopped
½ to 1 tsp lemon juice or as required (optional)
8-10 curry leaves/kadi patta (optional)
½ to 1 tsp sugar or as required
Rock salt as required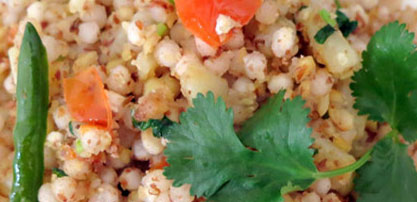 Step-by-step Recipe for Sabudana Kitchdi:
In a big bowl, soak sabudana overnight or just for 3-5 hours.
Next day drain sabudana nicely and keep it aside in a bowl.
Then boil potatoes.
After potatoes are boiled peel and chop them when warm.
Now in a pan dry roast the peanuts till browned
When it is cooled do make a coarse powder in a mortar-pestle or in any dry grinder.
Then mix coarsely powdered peanuts, sugar and salt with drained sabudana.
In a pan heat oil to fry the cumin first till they crackle and turn brown.
It's time now to add the curry leaves & green chilies in it.
Fry it for half a minute and then mix grated ginger in it.
Keep on stirring it till the raw smell of the ginger is no more.
Add potato in it and sauté it for 1-2 minutes.
Now add sabudana and keep on stirring this mixture.
When the sabudana starts losing its opaqueness and turns into translucent they are cooked.
Remember not to overcook it as it might turn lumpy and hard.
Then lastly add grated coconut in and mix it well. Close the flame.
While serving you can garnish sabudana khichdi with coriander leaves and drizzle some lemon juice over it.
Your sabudana khichdi is ready to be served hot.