Recipe of Aloo Tamatar ki Sabzi
The tempting, spicy, tangy and delicious Aloo Tamatar Sabzi is a staple food of numerous Indian households. Its irresistible spicy taste makes it one of the most popular choices in Indian food. Moreover it's not at all difficult to find this yummy dish anywhere in North India. But despite of this if you are looking for the most delicious recipe of Aloo Tamatar which is easy to cook then below mentioned recipe of Aloo Tamatar is the best one to try out.
Cuisine: Punjabi, North Indian
Category: Main course
Preparation time: 15 minutes
Cooking time: 20 minutes
Servings: 2-3
Ingredients:
Potatoes – 2 large or 2 cups cubed
Tomato – 1 cup, finely chopped
Onion – ½ cup, finely chopped
Green chili – 1, chopped finely
Red chili powder – 1 ½ teaspoons
Garam masala – ½ teaspoon
Coriander powder – 1 teaspoon
Turmeric powder – ¼ teaspoon
Ginger paste or freshly grated – 1 teaspoon
Garlic paste or freshly grated – 1 teaspoon
Kasoori methi (dried fenugreek leaves) – 1 teaspoon, lightly crushed
Anardana powder (dried pomegranate seeds powder) – 2 teaspoons
Cilantro or coriander leaves – 2 tablespoons, finely chopped
Oil – 2 tablespoons
Salt – to taste
Water – 1 ¼ cups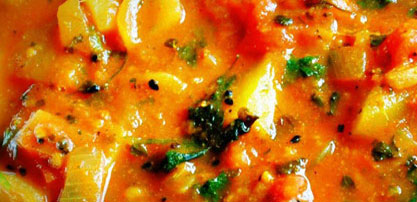 Step by Step Recipe of Aloo Tamatar ki Sabji
Firstly you need to heat the oil in a pressure cooker on medium flame.
Then add chopped onions and sprinkle little salt and mix it to speed up the process.
Keep on cooking till onions turn soft and translucent.
Add garlic paste, ginger paste and green chilies in it.
Then saute for a minute or till the raw smell of garlic and ginger goes away
Now add chopped tomatoes in to the mix and sauté.
Keep cooking till tomatoes turn soft and mushy.
Now it's time to add remaining salt, red chili powder, turmeric powder, coriander powder as well as anardana powder in it.
Mix everything well and let it cook for 2 minutes. By now you may notice few specks of oil on top.
This is the time top add cubed potatoes in it and Stir well.
After this add water and cover the cooker with lid of the pressure cooker.
Let it pressure cook it for 2 whistles and then turn off the stove. Let the pressure go down by itself. Then open the lid and check the potato by inserting a knife in potatoes, it should be soft and tender.
To thicken the gravy, mash few potatoes using back of the spatula.
Then again turn the heat to medium flame and let it simmer for around 2-3 minutes. This step can be skipped if the gravy consistency is suitable for you.
Now add garam masala and kasoori methi in it.
Stir well and turn off the flame.
Lastly you can add chopped cilantro leaves on it.
Mix everything well and let it rest covered for about 5 minutes. Now it is ready to be served hot.
Note: The last 5 minutes resting time is must. So do not skip it. This will allow the gravy to thicken slightly and potatoes to firm up during this time.
Serving suggestion: Serve with puri, roti/phulka, masala puri or paratha. You can serve it with plain rice too.