Recipe of Jeera Aloo
If you don't want to spend much time in kitchen and still wish to eat something tasty, then you can prepare Jeera Aloo in few minutes. The plainly crushed cumin seeds add ample texture, taste and coat the boiled potato pieces nicely. There is no set recipe to prepare it as everybody has a special way of preparing jeera aloo and this combination is so perfect that it always turns out delicious. This dish is easy to cook and ideal to eat during fasts. You can serve it with different kind of chapati and with rice.
Ingredients for Jeera Aloo Recipe
4 Boiled large potatoes in 1 inch pieces
1 tablespoon cumin seed
O4 table spoon Mustard/refined oil
Salt as per taste
1 teaspoon Red chili power
1 tablespoon Coriander seeds powder
1 teaspoon powder of roasted cumin
½ teaspoon amchur (Dry mango powder0
2 tablespoons Fresh coriander leaves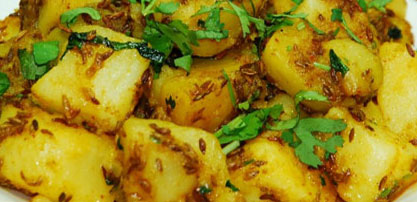 Method
Heat oil in a pan or kadahi
Now add seeds of cumin in hot oil and let the seeds crackle.
Add some green chilies and fry it for one minute.
Add potato pieces and mix it nicely with chilly and cumin seeds.
Shake over the rock salt, red chili powder and turmeric power
Brown the potatoes for around 2 minutes
Add chopped coriander leaves and few drops of lemon juice
Mix up the whole mixture nicely for a minute.
Note: Serve the hot Jeera Aloo.