Recipe of Kuttu ki Khichdi
If you are willing to make delicious Kuttu ki Khichdi which your mother or Bhabhi use to cook during Navratri fast then here is the solution to it. Below is the recipe of yummy Kuttu Ki Khichdi for you to cook with great ease. The recipe of Kuttu ki Khichdi shared below is easy and much preferred by all to relish during Navratri fasting days.
Prep Time: 11-15 minutes
Cook time: 16-20 minutes
Serve: 4
Level of Cooking: Easy
Taste: Mild
Ingredients for Kuttu Khichdi Recipe:
Ghee 1 tablespoon
Buckwheat (kuttu) 1 cup
Potatoes peeled and cut into small cubes 2 medium
Cumin seeds 1/2 teaspoon
Ginger finely chopped 1/2 inch
Green chilli finely chopped 1
Peanuts roasted and crushed 2 tablespoons
Salt to taste
Sugar 1 teaspoon
Lemon juice 1 teaspoon
Fresh coriander leaves chopped 1 tablespoon
Lemon wedges to serve
Method of Cooking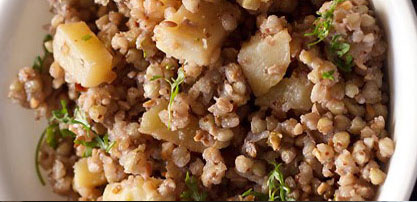 Step 1: First heat ghee in a non-stick pan and then add cumin seeds. Sauté till seeds starts changing color.
Step 2: Now add green chilli and ginger in it, mix and sauté everything for few seconds.
Step 3: Add potatoes and sauté for 2-3 minutes or till potatoes starts turning crisp from the edges.
Step 4: It's time now to add peanuts into it and then sauté it for half a minute.
Step 5: Now add buckwheat into it to mix it well and sauté it for one to two minutes.
Step 6: After all this now you need to add 2 cups water, salt and sugar. Then mix it well, cover it to let it cook on low heat till it is fully done.
Step 7: Then add coriander leaves lemon juice. Mix well.
Step 8: Now it's ready to be served hot with a lemon wedge.