Kuttu Ka Paratha
Kuttu ka Paratha is one of most preferred food during the ritual fasts, especially in Navratri when fast goes till nine days. This paratha is basically belongs to the southernmost part of India where a lot of alternative of this paratha can be find. "Kuttu ka Paratha" made in Indian homes or that is available in the market are divided in to tinny pieces. This is one of the most famous south Indian street foods. If you wish to make it at your home, then you can easily prepare it in your kitchen.
Ingredients:
2 Cups of Kuttu Atta
1 tablespoon of Rock salt
2 boiled potatoes (Pealed and Mashed)
Dried up flour for dusting purposes
clarified butter or Ghee for frying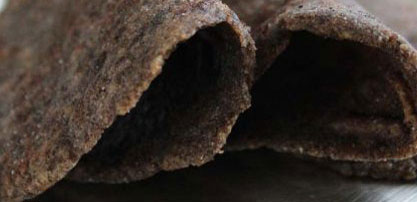 Method of making Kuttu Paratha:
Mix the kuttu atta, rock salt and potatoes together.
Now add adequate water and Squeeze well in order to make stretchy dough.
Wrap it and set sideways for around half an hour.
Separate the dough into eight equal pieces and form them into round balls with dry flour.
Roll out these balls into chapatti.
Heat the griddle (tava). Reduce the flame to medium.
Put the paratha on the griddle and apply ghee in the form of trail along the on the outside edges of the paratha.
Turn over when the base is cooked. Apply the ghee on exposed face.
Turn over again and cook on the other side.
Take away when both sides are cooked well.