Dahi Aloo
During 9 days of fast in Navratri, people try many different vrat recipes; However Dahi Aloo is one such recipe that is cooked by everyone during the auspicious Navratri festival. It is simple, tasty and flavorful dish that is loved by all. Every home follows a different method of cooking Dahi Aloo. So here I have come up with completely different recipe of the Dahi Aloo that can be cooked easily and will definitely make you feel good during Navratri fast. (You can replace normal salt with sendha namak and skip the use of red cihilli powder if you do not consume it during Navratri fast). .
Cuisine: Indian
Category: Main course – Curry
Preparation time: 20 minutes
Cooking time: 15 minutes
Servings: 2
Ingredients:
Potatoes – 2 medium or 1 ½ cups boiled, peeled and cubed
Peanuts – 1 tablespoon, coarsely ground
Plain yogurt or curd – ⅓ cup
Cumin seeds – ½ teaspoon
Ginger paste or freshly grated – 1 teaspoon
Green chili – 1, chopped finely
Cumin powder – 1 teaspoon
Red chili powder – 1 teaspoon
Cilantro or coriander leaves – few, chopped finely
Water – ⅔ cups
Ghee or clarified butter – 1 tablespoon
Salt as per taste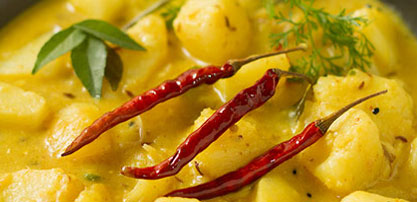 Step by Step Recipe to Make Dahi Aloo
Firstly step to start with is to boil the potatoes for which take washed potatoes in a pressure cooker; add enough water so they are submerged in it. Then cover it with lid and put the weight on to cook it on medium flame.
Let potatoes cook for 2-3 whistles (time or number of whistles may vary as per your potato size or type). Let pressure go down by itself then open the lid and let the potato cool down.
During this time take yogurt in large bowl or cup, add some water in it.
Now whisk it well till it is smooth and keep it aside.
When potatoes are cool enough to touch with bare hands, cube them into medium size pieces.
Grate the ginger and Chop green chilies as well.
It's time now to heat the ghee in a pan on medium flame. After the oil turns enough hot add cumin seeds to let them sizzle.
Now add ginger and green chilies in it and sauté this for a minute.
Add crushed peanuts in it.
Mix it well and let it cook for a minute.
It's better to lower the heat on medium-flame and add cumin powder, red chili powder and salt in it.
Stir it well and cook for around 30 seconds. If spices start burning then add few splash of water on it and then add boiled potatoes.
Mix it well, so that all the masala gets coated with spices.
Now its time to add earlier prepared yogurt-water mixture and then lower the heat bit early, so that yogurt won't start to curdle with unfavorable temperature.
The again stir everything well and cook it in a very low heat.
Now let it cook for 7-8 minutes in very low flame. Do stir it in between..
After this try mashing few pieces of potatoes using the back of spatula. This mashing of potatoes will help you to thicken your Dahi Aloo gravy.
Then again bring it on simmer flame for 1-2 minutes or till gravy starts becoming thick.
Lastly add chopped cilantro leaves over it.
Mix it well too and turn off the stove.
Your delicious Dahi Aloo is now ready to be served hot.
Serving suggestions: If you are making this Dahoi Aloo for vrat then you can serve it with singhare ki puri, rajgire ka paratha, rajgira puri or kuttu ki puri or even with kuttu ka paratha. And if you are serving this delicious Dahi Aloo sabzi on a regular day, you can have it with roti, puri or crunchy paratha.