Aloo Paneer Kofta Recipe
This is another classic Recipe of Punjabi's from North Indian cuisine. This recipe of Aloo Paneer Kofta recipe has 2 separate parts. In first part it's the making of kofta with aloo and paneer and then in the second part it is the making of tomato-based gravy. Once you are done with complete Aloo Paneer Kofta recipe as been described, you are sure to impress your loved ones. This is one of the hit Navratri recipe which you must try.
Preparation Time: 15 minutes
Cooking Time: 35 minutes
Servings:2

Ingredients for Aloo-Paneer Kofta:
2 medium Potatoes, boiled, peeled and grated
200 gm Paneer (cottage cheese), grated
6-8 Cashew nuts, chopped
1/2 teaspoon grated Ginger
1 finely chopped green chilli
1/2 teaspoon Lemon Juice
1½ tablespoons Corn Flour
2 tablespoons finely chopped coriander leaves
Oil for deep frying
Salt to taste
Ingredients for Gravy:
2 tablespoons Cashew nuts, soaked in water for 20 minutes
3 medium Tomatoes
1 Green Chilli, seeded and finely chopped
2 teaspoons crushed Garlic-Ginger
1 medium Onion, finely chopped or grated
1/2 teaspoon Kasuri Methi (dried fenugreek leaves)
1/2 teaspoon Cumin Seeds
1/4 teaspoon Garam Masala Powder
1/2 teaspoon Red Chilli Powder
1/2 inch piece of Cinnamon Stick
1/4 teaspoon Turmeric Powder
1½ teaspoons Coriander Powder
1/2 teaspoon Sugar
3/4 cup Water
2 Cloves
Salt to taste
2 tablespoons Oil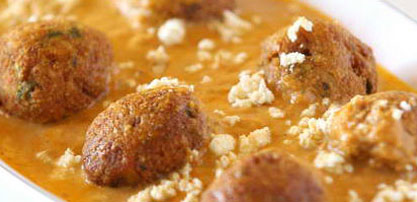 Directions for Making Kofta of Paneer:
1. At first take grated potatoes, grated paneer, corn flour, ginger, green chilli, coriander leaves, lemon juice and salt in a big bowl.
To make a smooth mixture of all mix these well.
Now grease your palms with oil and then divide this mixture into 6-8 equal portions.
Pick each and give each portion the shape of a ball.

After this, take one ball and press a little between your palms to flatten it like pattie.
You can put 2-3 pieces of cashew nuts in the center (this is a stuffing).
Wrap each of these in from all the sides and give it round shape of ball. In the same way, prepare remaining stuffed kofta balls.
Now in a frying pan, heat oil over medium flame.
When it turns medium hot, slide in 3-4 stuffed balls carefully from the edge of frying pan and deep-fry these balls over medium flame until they start turning golden brown and crisp. It is important to assure that oil is very hot otherwise it may break or split.
Now drain these and transfer them to a plate. Repeat the process for remaining stuffed balls.
Directions for Making Tomato based Gravy:
To make tomato puree, blanch the tomatoes and then add grind soaked cashew nuts with 2 tablespoons of water in it to make a paste.
In a pan heat oil over medium flame.
Now add cumin seeds in it. When these begin to crackle, add cinnamon and cloves. For 30 seconds approx sauté it well.
It's time now to add crushed garlic-ginger and sauté it for 10-20 seconds.
After this add chopped green chilli and onion. Sauté it well until onion turns light brown. This will take approx. 2-3 minutes.
Add tomato puree (prepared in step-1).
Sauté until oil starts to separate, 3-4 minutes.
Add cashew nut paste (prepared in step-1), turmeric powder, red chilli powder, coriander powder, garam masala powder, sugar and salt.
Keep stirring it and let it cook for a minute.
Now add kasuri methi and 1/2 cup of water in it. Let the gravy cook for 4-5 minutes.
This is the time to add prepared stuffed balls and to it mix well. After few seconds turn off the flame.
Transfer your Aloo paneer kofta curry to a serving bowl and garnish it with grated paneer.